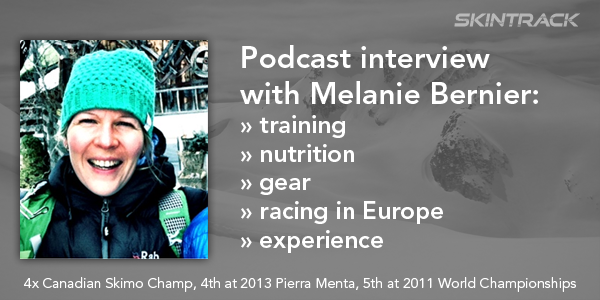 This is the first ever episode of SkinTrack.com podcast! It's not fully podcast-like in a sense that you can download it (will come later) but you can definitely just sit back and listen instead of reading.
For this first episode, I chose to interview my good friend Melanie Bernier who is one of the most inspirational people I know, and a fellow member on the Canadian National Ski Mountaineering Team.
Melanie is one of the most accomplished skimo racers in North America with a 4th place from 2013 Pierra Menta being one of her career highlights. She is fine tuning her game every season and her improvements are results of long-term daily hard work, strong commitment and big passion for skimo.

In this interview we discussed:
Melanie's last winter Euro racing campaign and her most favourite moments
her upcoming trip back to Europe for more World Cup action
current training
nutrition (Paleo diet)
her current racing gear
skimo pole lengths
and her future goals
Resources related to this podcast episode:
I really hope that you enjoyed this interview format and please leave a comment below if you liked it. If not then please leave suggestions on what can be improved going forward with these podcast episodes. Thank you!