The Vert180 is the annual season opener for the Canadian Skimo Calendar. While the setting may not be spectacular alpine peaks, there is no shortage of energy that descends on Calgary Olympic Park the first weekend in December.
Eighty-five racers toed the line at Winsport in Calgary on Saturday in three categories: solo, 2 person teams, and 4 person teams. Racers had 180 minutes to complete as many of the 150m ascent and descent laps as possible. The course was slightly different this year, climbing with skins almost to the top, then a bootpack to the top of the chairlift followed by a descent to the start/ finish area. As always the race involved less technical elements but a lot of mental strength as you lap again and again for three hours.
Prior to the start of the race, National Team members held a clinic that started with a presentation by Melanie Bernier on the history of skimo racing, what the sport is all about and the race scene in Europe. The 10 athletes and their instructors then headed outside and practiced transitions; tips for race transitions but also useful tips for the backcountry. Strides and movement efficiency were discussed and kick-turns were demo'd and practiced.
As expected, National Team members Travis Brown and Peter Knight started the race hard with Melanie Bernier and Steve Sellers giving a strong chase. The laps took their toll, however, no-one could quite match Travis' 18 total laps. Peter and Steve both finished with 17 laps (Steve placing well despite a ski lost into the trees during botched top-transition).
On the women's side there was no surprise to see Melanie Bernier in good form, giving the boys a run for their money spinning 17 laps. The race for second and third was a bit more spread out with Kylee Ohler completing 16 laps and Michelle Roberts finishing with 15. Many impressive results by recreational back country skiers trying the sport for the first time. In addition to the elite spandex racer crew, there were 3 split boarders, tutu clad competitors, someone dressed as a giant hot dog, competitive rivalries between MEC teams, competitors from age 16-60, lots of high fives and laughter.
On the junior front, Marcus Zamzow got in 6 laps in 1.5 hours. A dramatic improvement over his race effort last year. No one pushed him for the victory. There were some other good efforts on pretty heavy gear!
Results
HERE
The stoke is high as the snow is falling and people are getting geared up for the next four races on the Canadian circuit! Next up in Canada is the Castle Mountain Ski Mountaineering Race on Jan 9/10. This weekend, racing continues in Crested Butte with the Irwin Guides race cancelled due to lack of snow. Instead a vertical and 'make-up' individual race will take place at Crested Butte Mountain Resort.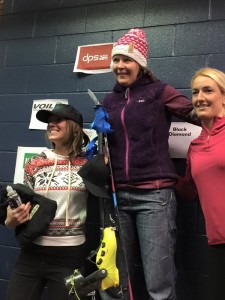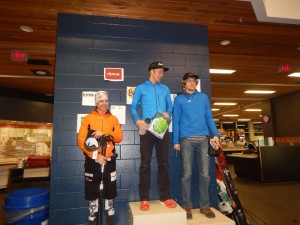 Thanks for Steve Sellers, Kylee Toth, and Melanie Bernier for contributing words and photos.