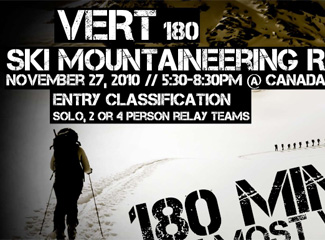 Vert 180 brings a new format to Canadian ski mountaineering racing that will showcase the sport in an altered way, however, it will showcase it to much bigger masses than ever before.
This Calgary event will be hosted so close to people not even Europeans have had a race like this before. So organize your friends for a relay team and a night of great fun.
This is an opening event of another great Canadian skimo racing season that is ahead of us.
What will be different with Vert 180 race?
Vert 180 name stands for totaling as much vertical as possible in 180 minutes by doing laps on a pre-set course.
This is the vertical you or your team is able to climb. The descent vertical does not count but the race is on during the downhill too, since the faster you schuss the more time is left to do more laps – more vertical.
This format is destined to deliver lots of fun and share great moments with friends, never mind this race will be going on under the star skies.
Vert 180 quick facts:
date is November 27, 2010
hosted at COP (Canada Olympic Park) in Calgary
it is night event with a start at 5.30pm
atmosphere will be extremely friendly
everyone is welcome – skimo gear, tele, split-boards, snowshoes
categories are solo or 2 and 4 person relay teams
registration is $40 per person, payable the day of the race

mandatory gear is to be determined (but bring a beacon, shovel, probe, helmet – cycling one is good)
More info
To get more information you can either email Vert180Calgary@gmail.com or call 403-678-3200 (ext. 108). Email contact is preferred.