It was a busy weekend for skimo racing and big snow storms in North America while many skimo locations in Europe continue to receive very little snow. However, more snow often means too much distraction in the form of powder skiing for many athletes, so if you really want to taper then go somewhere dry 🙂
Read our last week's Skimo News go here – Skimo News Jan 28-29: Controversy at the 2nd World Cup, Le Massif Race in Quebec, CROWBAR in Utah, Upcoming Events
USA Race News
US Skimo Nationals – New Mexico – Feb 4-5
New Mexico's resorts, Ski Santa Fe and Taos Ski Valley hosted four races of the 2017 US Nationals last weekend. While a couple of the top US racers weren't present (already in Europe…) there was enough of fast characters to put the hammer down.

Vertical race:
The weekend started off with a vertical on Friday. The men's podium was – John Gaston, Rory Kelly and Rob Krar. Since Krar is a Canadian, the bronze medal went to  Sean Van Horn.
Women's title went to Kristi Knecht, with Jamie Falcon and Aisha Weinhold claiming the rest of the podium.
» Vertical race results

Individual race:
John Gaston confirmed his peaking form with a convincing win on a fast course. Max Taam went on to out ski Rory Kelly for second.
The women's race delivered more fireworks when Jessie Young topped Janelle Smiley for the gold. Bronze went to Kristi Knecht.
» Individual race results

Sprint race:
Scott Archer confirmed his form after qualifying for the Worlds sprint race 3 weeks ago with another solid performance and finishing second behind John Gaston. Third place went to Jack Linehan.
Women's title went to Janelle Smiley, second to Jessie Young, and third to Madeleine Carey.
» Sprint race results

Teams race:
The historically strongest US team ever – John Gaston and Max Taam – added to their collection of victories, beating Rory Kelly and Jon Brown. Bronze went to Matthias Messner and Jason Killgore.
In the women's race, Janelle Smiley and Jessie Young went out to polish their form before the Worlds where we believe they will have a good chance for a great result. They won in front of  Kristi Knecht and Anne Gonzales. There were no other women's teams in the elite category.
» Teams race results

Burke Backcountry Adventure Race – Vermont – Feb 5
The following write up was provided by SkimoEast's  Tim Johnson.
The Burke Backcountry Adventure presented by SmartWool tackled a short but tough bootpacking sections of any skimo race in North America, but combined with classic New England snow conditions Sunday it made great World's prep for race winner and U20 skier, Ian Clarke.
At 100% open, Burke provided a tough single-track climb for the 49 finishers just out of the Sherburne Base Lodge. The Red Trail climb had one mandatory bootpack and one "optional" sector just after, testing skins on the slick, steep conditions before reaching the summit. East Bowl was groomed and held traction with one racer recording a top speed of 96kmh even without tucking, which was prohibited on race day. After a quick transition at Mid-Mountain, the bootpack loomed after a short but steep skin below the main lift that held plenty of distraction for the climbing racers.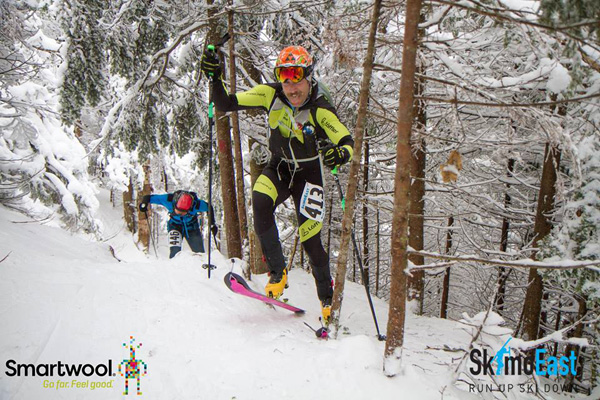 Clarke, 1st place in 1:49:04 from Killington VT, left for the 1st of two laps with a small lead of 15sec and continued to hold at least that thru the end of lap 1 eventually holding off Ed Warren, who finished just under 1min behind at 1:49:46. Andrew Drummond claimed third with 1:51:38.
In the women's race, Hilary McCloy's freshly mounted skis helped her shave buckets of tie off her time 2016 race time to win in 2:23:26, with Stephanie Cote 10:50 back and Whitney Withington another 37secs behind in 3rd.
Young Antoine Corbeil brought home a long course U16 victory in a time of 2:26:59. An even younger Pierre-Luc Harnois was 2nd at 3:15:33
The FreeRando category is made up of those using heavier gear, Bruce Rychlik finished in 2:41:07 and Leslie Burnard at 3:23:56
Canada Race News
Steep Dreams – Panorama, BC – Feb 4-5
A new race on the Canadian calendar premiered last weekend at the lovely
Panorama Resort
located deep in the Purcell Mountains. Organized by racers Matt Reid and his wife Caroline the event was highly enjoyed by all participants!
Individual race:
Great selection of terrain and 15cm of fresh overnight were putting smiles on our faces despite the cold temperatures. A novelty in skimo racing, courtesy of Matt's idea, were electronic chip timed downhills!
Men's race went on to be a close battle between Peter Knight and Travis Brown with Peter securing a win thanks to strong climbing while not giving up too much time to Travis on the descents. Third place went to Joel Desgreiners after pulling off another strong performance. Stano went on to finish 4th with having mixed feelings about his performance.
There were no surprises in the women's race, however, Kylee Ohler continues to keep building her stellar form towards the World Championships. Her coach, Eric Carter, and I continue to be impressed by her with every passing race. Second place finisher, Michelle Roberts, is making improvements as well and will be partnering with Kylee for Worlds and Pierra Menta – where Stano will be helping them with gear and overall support. Third place went to Lori-Anne Donald after posting some fast times on the downhills.
Two juniors raced the short course with Tom Stephens taking the top spot in front of Marcus Zamzow.
» Individual
results
Vertical race:
All racers were ready once again early Sunday morning only to return back to the lodge after a snowmobile with the main timer & referee got stuck in storm snow half-way up the mountain.
840m of blue runs with some steep sections put a real hurt on everybody and delivered some impressive ascent speed rates for the top finishers. With laser focus, Peter Knight quickly disappeared out the front to post a fast 33:47 time (ascent rate of 24.9m/min or 1490m/hour). Travis Brown followed him home 1.5min back with third going again to Joel further 15sec back.
Biggest news was that only a 14-years old Tom Stephens finished in fourth in a time of 36:50!
In the women's race, Kylee Toth took the win (40:12 and ascent rate of 20.9m/min or 1250m/hour) in front of Marg Fedyna and Michelle Roberts.
» Vertical
results
Upcoming Races
World Cups:
On Feb 11th, Turkey will host an individual and sprint. Then all eyes will be on World Championships between Feb 23 and Mar 3.
USA and Canada:
» Check out our skimo racing calendar
Over the next two weekends:
Feb 11 – Whitefish Whiteout, MT – Stano will be there to remember to Ben Parsons
Feb 11 – Bolton 24 Hours, VT
Feb 17-19 – Griggs Ski Mountaineering Race, CO
Feb 18 – Course du Mont Édouard, QC