As of two weeks ago, conditions around Duffey Lake seemed to make the final turn towards spring until the weather started acting up and proceeded to blanket the area with fresh snow every so often. With faster missions on hold, it was time to explore.
Eric's plan, my alterations
Forecast for Saturday (yesterday) looked good enough so Eric revealed his idea of skiing a very protected, north facing couloir off Mount Duke based on reference from couple of people.
With the goal agreed on I decided to alter the approach and the ski-out routes as I was unwilling to walk so far on flat for what looked like a 150 m chute on Google Earth. I proposed a more adventurous approach via Cerise Creek drainage on the way in and skiing the N face of Vantage Peak on the way out.

Duke Couloir
With the day plan set Eric, Pascal and I headed up Cerise Cr and towards Vantage Col under grey skies. Thanks to clouds and being there early we were able to traverse the big south facing slopes of Vantage Peak safely and we managed to ski right into the col west of Duke.
After about 3h of walking and skiing we were atop our first objective. And as expected, the couloir entrance was protected by a massive cornice. Pascal and Eric quickly went to work – Pascal trying to get the cornice smaller with Eric belaying him. I was a communicating channel between the two as the strong wind made it impossible to hear each other even from 10 m apart.
Once we concluded the cornice was way too big/deep to chop anything sizeable off, but also too big to fail, we dug a big hole to bury our hi-tech anchor – a foot long two-by-four 🙂
Then it was time to ski. To "increase" our safety margins, we rappelled in and skied the couloir until the fan one by one. The couloir turned out to be not very steep or super narrow as expected but the setting was absolutely amazing – half-pipe skiing confined by 30 m walls on both sides, with a big white beast guarding it all. Superb!

Vantage Peak – North East face
Originally, I thought we would have time to also go back and ski the N face of Duke but after the rope got stuck in the cornice so deep we got to go back but to retrieve it rather than ski. Once there, we dug out the anchor slings and the two-by-four as well, then skied the ridge back to the col.

With winds bringing more clouds again we raced to the summit of Vantage to drop in before the flat light would ruin the whole thing. After hacking off some cornice we enjoyed great powdery turns before less enjoyable spring conditions set in lower in the bowl.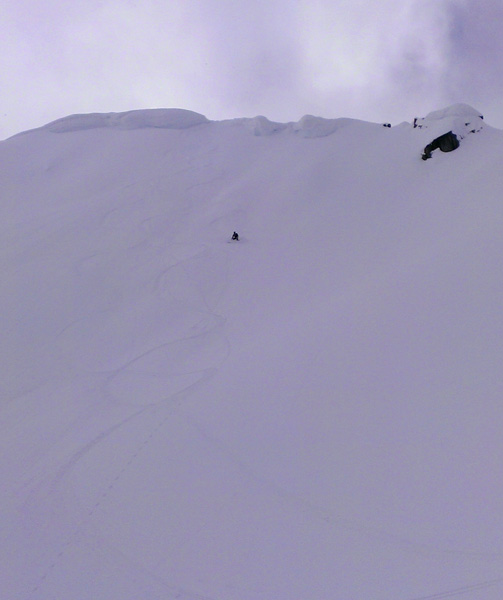 I managed my biggest bail of the season on this last run to give us all a big laugh to cap off the great day in the mountains. I tried to blame it all on flat light, crust and skis but the boys saw right through me 😉